How do I install a Go Moto chin mount to my helmet?
Installing a Go Moto chin mount is really easy but does need a little atention. View our handy manual for the full explanation. Be sure you always clean your helmet with the provided 3M surface cleaner on the area where you will stick your chin mount.
CAN I REMOVE THE GO MOTO MOUNT FROM MY HELMET?
Removing your mount can be quite tricky, but it's certainly not impossible. View the manual for a detailed explanation. Heat the mount/3M adhesive with a hair dryer and use a credit card to release the corners of the 3M adhesive. You can then remove the mount from the helmet with by twisting the mount. The 3M adhesive won't leave any residu.
WILL THE ADHESIVE DAMAGE MY HELMET?
Check out the manual for instructions on how to remove the mount from your helmet. The adhesive won't damage your helmet and won't leave any residu when removed properly.
WHAT TO DO WHEN I DIDN'T RECIEVE A ORDER OR SHIPPING CONFIRMATION E-MAIL?
Please double check your spam folder. Still no confirmation E-mail? Please contact us at support@go-moto.com
FROM WHERE DOES GO MOTO SHIP THE ORDERS?
All products are shipped from The Netherlands, Zwijndrecht.
IN WHAT CURRENCY ARE THE PRICES?
All prices on the website of Go Moto are in euro's.
HOW LONG WILL IT TAKE MY ORDER TO ARRIVE?
Orders typically ship within 1-3 business days of receiving receipt. The estimated shipping days for your country are listed below. More information Here.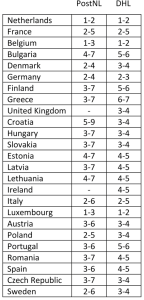 You will be responsible for paying for your own shipping costs for returning your item. Shipping costs are non-refundable.
CAN I RETURN OR REFUND MY ORDER?
You can always return or refund your order! If you want to return or refund your order, please visit the refund & shipping page for more information. We're always happy to help you out!